What is stress?
Stress is a normal physical response to events that make you feel threatened or upset your balance in some way. In emergency situations, stress can give you extra strength to avoid accident or injury. In manageable amounts stress helps you stay focused and energetic, however, too much or chronic stress may cause problems to your health, relationships, and quality of life.
Effect of stress
Stress activates the sympathetic nervous system which triggers the "fight-or-flight" response. The Mayo clinic describes the effect of stress below
"When you encounter perceived threats — a large dog barks at you during your morning walk, for instance — your hypothalamus, a tiny region at the base of your brain, sets off an alarm system in your body. Through a combination of nerve and hormonal signals, this system prompts your adrenal glands, located atop your kidneys, to release a surge of hormones, including adrenaline and cortisol.
Adrenaline increases your heart rate, elevates your blood pressure and boosts energy supplies. Cortisol, the primary stress hormone, increases sugars (glucose) in the bloodstream, enhances your brain's use of glucose and increases the availability of substances that repair tissues.
Cortisol also curbs functions that would be nonessential or detrimental in a fight-or-flight situation. It alters immune system responses and suppresses the digestive system, the reproductive system and growth processes. This complex natural alarm system also communicates with regions of your brain that control mood, motivation and fear."
When the threat is over the parasympathetic nervous system becomes active and the body comes back to homeostasis balance (rest and digest).
Excessive/chronic stress
Just as when you have a nightmare the body reacts as if the event was happening, the body doesn't distinguish between physical and psychological threats. When you are under permanent stress, the fight or flight response which is designed for short term emergencies is constantly in operation and the symptoms of stress become an accepted part of your life. This can cause many health problems including disrupted sleep, raised blood pressure, obesity, suppressed immune system, and increased risk of heart attack, stroke, anxiety and depression.
Causes of stress
Any thought or event that puts a lot of demands on you whether it is positive or negative may cause stress and each of us responds to these events differently. Stressors may include: –
Major life changes
Work
Relationship issues
Financial problems
Being too busy
Family
Reducing stress
Identify what is stressful to you
Become aware of your response
Change or avoid situation if possible
If you can't change the situation you can change your response
Let go, when you are away from the stressful situation focus on positive, relaxing things
Practice yoga, tai chi, relaxation, breathing, meditation
For further information please contact Suzan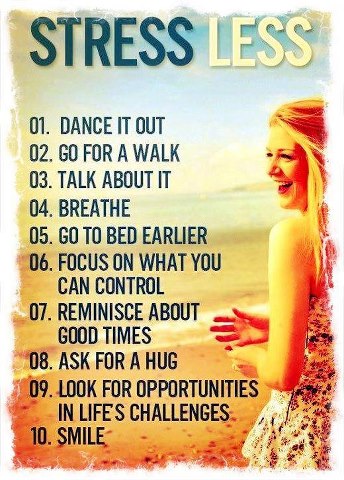 Images shared from Facebook