Slow, mindful movement & breathing to stretch, relax & bring harmony to body, mind & soul.
Suitable for all levels, ages, sizes and experience.
Each session includes a short time for checking in and sharing with each other. This is followed by gentle movement co-ordinated with the breath, mostly lying – to take advantage of support from the floor and enable deeper yet safe stretching. There is plenty of time for relaxation, yoga breathing techniques and a short period of meditation.
I really feel so relaxed at the end of the class and it make me feel 'glad to be alive'!
The class really is the highlight of my week!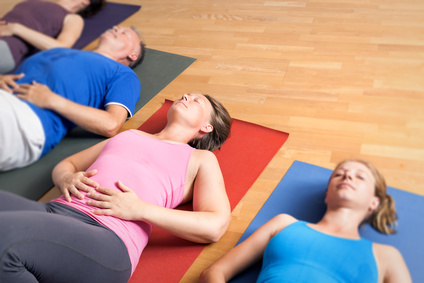 9th September – 9th December, 14 consecutive weeks
*£140.00 payment in full by cheque dated 2/9/19  or bank transfer for full amount on booking.
Alternatively, 4 cheques on booking each £36 (£144) dated 2/9/19, 2/10/19, 2/11/19 & 2/12/19
Cheques payable to S J Wells
Subject to space being available it may be possible to join part way through the course.
Any questions please contact Suzan or call 07795 517157
If you are unable to commit to a regular weekly class please contact Suzan to discuss 1-2-1 options.
Booking is for full term, fees are non-refundable.
Post code for venue HP19 8SR – free parking is available.