Feel comfortable being you, in the world at this time with gentle recovery and trauma sensitive practices.
A gentle and powerfully healing session combining body, energy healing and self-love. Make peace with your story and create the life you want to live.
Live, online, in-person group. Your confidentiality is assured.
Slow down, and let your body be your guide. She has so much wisdom to share.
Your breath reflects inner world, calm, slow and steady or agitated, fast and erratic?
An ache or pain holds a story of trauma or suffering, give it space and listen. To move or rest? gentle or strong?
Yoga becomes a journey of recovery. A time to connect with your innate wisdom and healing abilities. Uniting body, mind/emotions, and spirit. You are your own healer.
Working with your body supports recovery, healing and balance.
Feel safe and at home in your body.
Discover your inner wisdom.
This is the place of true knowing and deep peace.
Sessions include:
Mindful movement with Individual adaptations and alternatives as needed
Breathing techniques
Relaxation
Mindful meditation
Sharing, connection and community
Home practice ideas
Yoga supports:
Positive change
Immune system, digestion and rational thinking
Well-being of body, mind and spirit
Self-awareness and understanding
Energy balancing
New ways of seeing and being in the world
Happy to be me!
Amazing, I could do anything now!
Fabulous session, I enjoyed every single minute.
Energised and relaxed.
It is wonderful to move slowly.
My body was grateful for the movement
I was crying all day but feel great now.
I feel very relaxed and happy.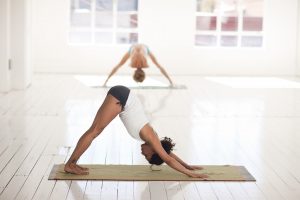 12 week course starting 13th January (This is not a 12-step programme)
Suggested donation £120.00 or your affordable donation. Payment on booking
If a monthly payment plan helps with finances please contact me for details.
Pro-rata if joining midway through course.
Booking is for full term, fees are non-refundable.
If you are unable to commit to a regular weekly class please contact Suzan to discuss 1-2-1 options.