Join our community of like-minded women.
❤ We speak your language.
❤ We see, hear, and accept just as you are.
❤ We welcome your success and struggle, vulnerability, and emotions.
❤ Together we weave a circle of high vibrational, compassionate, and loving energy facilitating insight and deep healing.
Energies will continue to be unsettling, unfamiliar, and perhaps a little crazy which will reflected in the world 😊.
We need each other more than ever. With the support of the group, we can stay and return to presence as we make huge leaps in our healing. We surf the waves rather than fighting or hiding.  Together everything is possible.
Small groups with private Signal group for peer support.
After the group I feel: invigorated, lighter in my heart, calm, open to miracles, grateful, excited, I've made a breakthrough.
Thank you for creating this beautiful space.
Wednesday 8pm on Zoom
27th Sept
25th Oct and
29th Nov
Opportunity for e a complimentary social in December. We'll agree a date nearer the time, so it works for everyone.
£60 for all 3 sessions. Payment confirms your place.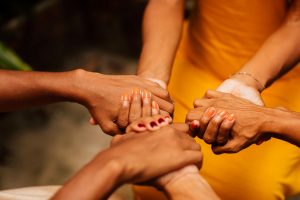 'Listening to each other's stories with total attention is an act of compassion that catalyses a deep and profound healing in both the teller and listener' Gabrielle Roth