Shake, stretch, bend, twist and flow, releasing and realigning, before dropping into stillness and reconnecting with your essence.
Friendly, stress/trauma/recovery sensitive, to support physical, emotional, mental and spiritual well-being.
Live, online, in-person group. Arrive up to 15 minutes before we start for a chat.
Sessions include:
Mindful movement with your breath to calm and settle the mind
A variety of postures and sequences flowing from movement to stillness.
Individual adaptations and alternatives.
Yoga breathing for well-being of body, mind, and spirit.
Relaxation to energise and re-vitalise.
Sharing time for connection and community.
You will
Feel energised, calm and a sense of well-being
Find freedom and flexibility in body and mind.
Suitable for all ages, sizes and levels of experience.
Booked as a course so we can get to know one another and feel comfortable asking for alternatives, sharing and interacting with group members (optional).
This group is:
Moderately energetic.
Holistic – supporting body, mind/emotions and spirit.
Ideal for those looking for a moderately strong postures and relaxation.
Suitable for all levels, ages, sizes and experience.
This is a very friendly, supportive, and welcoming group which works at its own ability, without competition.
Feedback from group members:
Thank you Suzan and for all you are doing to help us stay sane in these odd times.
When I left Aylesbury I thought I was going to cry when I had my last yoga class, I was more upset about that than all the great friends I'd made.
If I hadn't have found your classes I am not sure how I would have got through very difficult times ???? FACT!
Thanks for the class, I'm feeling much better today and more stable.
Not quite sure what you did yesterday in the yoga session but woke up this morning feeling really positive with energy and most productive day I've had in weeks, thank you.
I wasn't coming because I felt down and so tired, now I feel AMAZING.
You think you are ok but after class realise just how much you need it.
13 week course starting 4th January.  Recording available if you miss a session (technology willing…)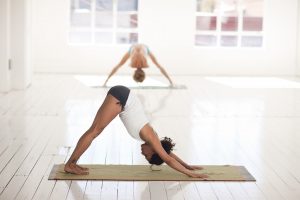 *£130.00 payment on booking. (Pro-rata if joining midway through course.)
If a monthly payment plan helps with finances please contact me for details.
If your income has been suspended or radically impacted by CV and you will benefit from the yoga classes and events, payment by donation or 'pay it forward'.
Booking is for full term, fees are non-refundable.
If you are unable to commit to a regular weekly class please contact Suzan to discuss 1-2-1 options.