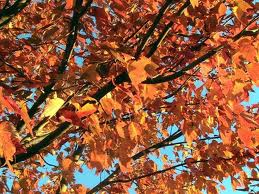 Getting back to nature and following the seasons as in days of old really helps us stay connected, grounded present and aware.  Our routine and diet should reflect the season
Ayurveda is considered a sister science to yoga.  It is one of the world's oldest healing systems, originating around 3000 years ago in India; it was used alongside yoga to support the body.
It says that our constitution and stage of life, the seasons and time of day comprise one or a mixture of dosa:- vata, pitta and kapha – the tridosa.
In autumn vata predominates.  Vata is linked to the elements of air and ether; it is light, subtle, dry, mobile, rough and cold.  If vata is predominant in the body autumn will aggravate it further.  You may feel off balance or ungrounded.
Suggestions to help ground and balance include:
1.  Eat foods that are warm and moist (soups, stews, steamed vegetables) to reduce and calm vata.
2.  A warm oil massage
3.  A slow, steady, grounding, consistent yoga asana practice.