Life Purpose Analysis is a guide to your life journey.
It will show your potential and the challenges you are likely to encounter. It is based on ancient numerology and innovative coaching techniques. You will receive recommendations to support you move forward and align to your life purpose. It will inform your personal development and healing, helping you become the best possible version of you and experience life as your true authentic self.
If you want to reconnect to why you are here… I highly recommend you get a reading! LC

I was blown away with the reading and so excited to make the changes necessary in order to move forward with enthusiasm and success. JJ
The session awakened me to the meaning of my life purpose – at a time in my life when I was perhaps most ready for it. CS teacher and therapist
Map of your Soul Wisdom Reading – based on your birth name information.

I will research and prepare the map prior to our meeting. Your Soul Wisdom Consultation is a 1 hour in-depth consultation via Zoom, option to record session.

Cost £200 payable on booking email me to book.
Life Purpose Alignment Package
Includes Map of your Soul Wisdom Reading as above AND  2 hour follow up session, to review, answer questions and develop a personalised self-healing protocol best support you right now. Your need will guide us. This may include any, all or none of the following.

Mindful movement, breathing, mantra, affirmation, energy practices, coaching/mentoring

Cost £330 payable on booking email me to book.
DISCOVER/REMEMBER THE PURPOSE OF THIS LIFE – BOOK NOW!
Testimonials
Thanks so much for the Soul Contract Reading.   I found it amazingly accurate, and really deeply affirming of both my past and my future, and giving my courage to find the way forward in difficult circumstances.  JS
I just wanted to say thank you for the reading yesterday. It has really inspired me to strive to be the best version of me possible. It has also made me feel more embracing of the past and positive about the future. I listened to the audio last night, and I am sure will listen to it again a few times in the near future. SM
The session awakened me to the meaning of my life purpose – at a time in my life when I was perhaps most ready for it. Suzan not only provided the information, but spoke with authenticity to 'transmit' the power of my soul wisdom so that I was able to receive the full impact of its message – with profound effect. It has given me a number of things to work on – both in the short and long term which are very practical as well as integrating various spiritual aspects in a way that I can make sense of them' CS teacher and therapist
A HUGE Thank you to Suzan for her wonderful Soul Contract Reading earlier this week. What an amazing experience this was and so very accurate for my personality and life experience so far. I am blown away by the amazing mental release that I felt afterwards, and how my feelings and self-assessment were in my reading. It's amazing that what Suzan told me though her reading was so accurate and very reassuring. I highly recommend that everyone have one of these Soul Contract Readings…wonderful feeling of calmness and joy. Thanks so much Suzan xxxx  MD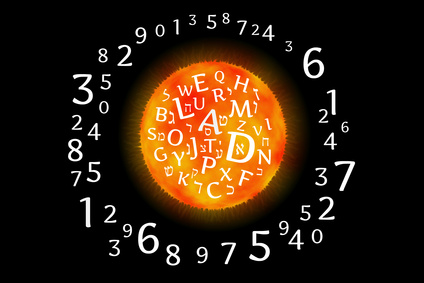 What is Numerology?
Numerology is the study of the symbolism of numbers to help determine and reflect a person's characteristics, talents, motivations and path in life.  Each letter of the English alphabet has corresponding Hebrew letter, number, sound, and energy.  The unique position and combination found in your birth name has a direct cosmic relation to who you really are.  Numerology experts decode this data giving meaning to both the positive and negative experiences in your life.  They will discuss ways to overcome challenges and develop your strengths so you can achieve your goals.