When I notice I am suffering or struggling, I check in to see what is happening, what I am not getting or what wants to change.
How are you with change and uncertainly?
For many years I resisted and resented undesired change. It was painful and not something I had planned. I did all I could to avoid it! I would get busy, grumpy, or resentful. So many more important things to do!  Or times there were long periods in inertia, resentment and feeling trapped. All completely subconscious.
Finding yoga and spiritual development gave me the tools to reflect and broaden my understanding. I came to understand that there was something bigger at play. My ego is not in control. The pain drove me to change. The result exactly what I needed.  The pain led to change. I was being guided to a better place.
The act of regularly showing up on the mat is a huge opportunity to be present with what is, to feel those things that are so easy to avoid. I found yoga postures a way into reflective practices. They also gave me time to get to know my body, and feel! Some tightness wouldn't shift no matter how many classes I did. It was in healing and personal development that they moved. I was then able to explore and access deeper wisdom in the yoga classes.
I studied a whole lot and understood at a cognitive level. Over time I was really able to understand. This was when I felt the knowing and understanding physically and at a more subtle, energetic level.
Now I feel and know with my physical body and beyond that change and the suffering it often brings are the one certainty in life! It is not wrong or a punishment, rather a catalyst to take us to a new, more evolved place. The idea is to move through the suffering rather than get stuck. Now it's not easy or quick but the reality of life.
Life continues to bring me opportunities to leap forward and I find the support and connection of my practice means the process is easier and quicker. And I still notice sub-conscious activities taking me the scenic route! Ultimately it will take as long as is needed.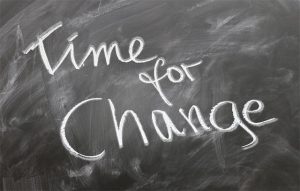 Are you ready for change? Looking for support navigating change? Trying to understand and make sense of uncertainty.
Email me to book a free 20 minute consultation to see how working together can support you.